Computer Training. How I got started.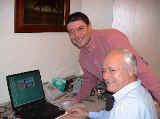 My computer training business was established in 1998, more or less by accident. I had a few friends who asked me to help with email, or word processing etc.
All of them made comments such as, "You're a very good teacher, you could do this for a living".
I really enjoyed the training side, and decided to place an advert in a local magazine. Guess what, the phone started ringing with enquiries.
My little business began to grow quickly as I advertised more, and found that there was a massive demand for personal, one on one computer training in people's own homes.
Today, it is very much a full time business and I'm lucky enough to have a customer base of over 1,500 clients, and I probably see half of them at least once or twice a year.